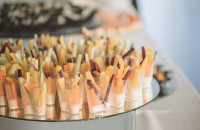 Chef at Home
Catering a Forte dei Marmi
At home with our Bambaissa specialities
You may wish to hold an elegant Augustus event by using our specialized "at home" services. We will bring our 60 years of experience in five star hospitality into the comfort of your own home, whether it is for an intimate dinner with a private chef for a few friends, a big party or afternoon festivities to celebrate a special occasion. Our staff will help you to choose the best solution to serve your needs from an extensive menu of different formats including buffet, show cooking, seated dinner plus a wide range of deserts with fabulous cakes and little decorative sweets.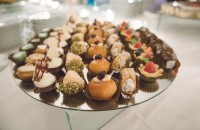 BUFFET
You may choose from over 50 different raw fish, sushi, oysters, fish, meat and vegetable dishes and our chef will prepare a fabulous finger buffet.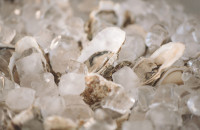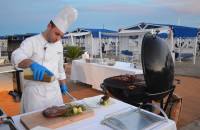 SHOW COOKING
Your guests will be entertained by our chefs' expertise: meat, fish and vegetables fried on the spot, salami and Tuscan hams sliced expertly, pasta dishes cooked espresso, BBQ of seafood, fish and meat.
SWEET TIME
Our rich desert buffet includes cakes, puddings and little sweet cups prepared by our chef will provide a note of fun to any evening or memorable afternoon.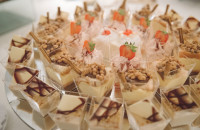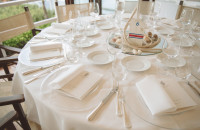 DINNER PLACE
Elegant round or rectangular tables with fresh linen table cloths, white porcelain, crystal wine glasses and silverware will create a magical atmosphere for your special dinner.
WINE & BAR
Our bar is ideal for a wide variety of special events, and can offer local and international wines from our extensive cellar, many different cocktails and tastings of wines. We have partnered with Ferrari Trento to offer the very best of sparkling Italian brut, rose' and reserve wines.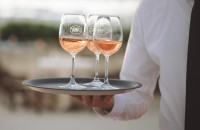 Services
To guarantee perfection, we are happy to organize for you:
Entertainment and music with DJ
Personalized decorations with cushions, candles and lanterns
Flower arrangements
Customised events for children
And if you wish to have fun away from home, don't forget both the Augustus Beach Club and the Hermitage Hotel & Resort playground are available for your special event!