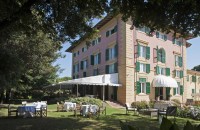 Villa Agnelli
Holidays in the Agnelli's family seaside home in Forte dei Marmi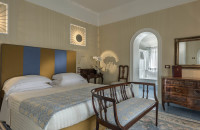 The Augustus Lido Hotel is the former "Villa Agnelli", it was the seaside home for more than thirty years of the famous Italian family Agnelli.
Villa Agnelli in Forte dei Marmi is a charming building houses 19 bedrooms, and it has preserved the original furnishings chosen by the Agnelli family and its distinctive colouring of the three floors of the villa in green, pink and blue.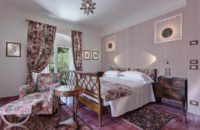 HISTORY OF THE VILLA
Built by Admiral Morin at the beginning of the twentieth century, the neo-Renaissance Villa Costanza was bought in 1926 by Edoardo Agnelli, son of the senator and FIAT founder Giovanni. Thus it became Villa Agnelli, which has been the Turin family's holiday home in Forte dei Marmi for over thirty years. The Villa's strategic location, not far from the town centre and close to the sea, gives it its characteristic exclusiveness and privacy, with an underpass offering direct access to the nearby beach built by the Agnellis: a unique underground driveway which is still accessible and used by our customers today.
The park and the beach
Arising within the picturesque park is the charming Villa Agnelli: enveloped by the charm of its history and the natural splendour of its gardens, the complex is the perfect location for your luxurious wellness and relaxation break. The Villa enjoys exclusive access to its own private beach, accessible through an underpass that offers privileged access to the Augustus Beach Club, one of the most exclusive areas in Forte dei Marmi.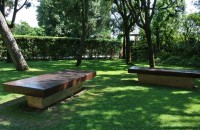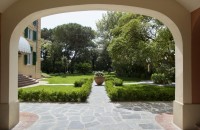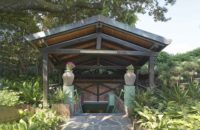 The Lidino
The hotel now offers a 125 m2 apartment with a large patio, separate entrance and four rooms, with exclusive access to the beach.
The property is surrounded by a beautifully kept garden with flowering plants, while a driveway of hydrangeas leads to an underpass – unique to Versilia – which offers access to the beach without crossing the street, ensuring guests receive that exclusive, private touch.