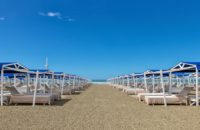 Augustus Beach Club
FORTE DEI MARMI PRIVATE BEACH CLUB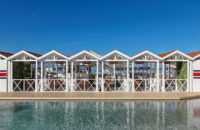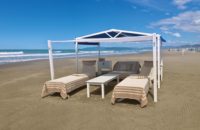 A Suite on the Seashore of Forte Dei Marmi
Augustus Hotel & Resort offers to its guests its private beach, the Augustus Beach Club which is one of the most exclusive locations in Forte dei Marmi.
A beach club in Versilia to let guests enjoy the Tyrrhenian sea of Forte dei Marmi.
74 beach tents, well spaced and equipped with sun beds, deck chairs and cushions, are sitting rooms in the sand. A careful service of the beach staff, our beautiful beach towels and a bar service on the beach make your day on the seashore a moment of true relaxation.
The Augustus Beach Club offers also a brand new heated  salt water Jacuzzi pool for wellness.
Watersports
Water is at the heart of the Augustus Hotel & Resort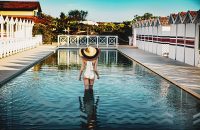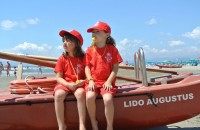 Water is at the heart of the Augustus Hotel & Resort, with both the sea and our swimming pools. Our instructors are available on request for sailing and canoeing lessons, swimming lessons for children, or lessons in surfing and windsurfing. The "pattìno" (double hulled rowing boat) is a typical Versilian boat, and anyone who spends a few days on this coast should not lose the opportunity for a short trip on the sea in one of these rowboats.
Swimming Pool
The Augustus Hotel & Resort in Forte dei Marmi enjoys one of the most exclusive private beaches along the Tuscan coast, and its uniqueness is even further enhanced by its stunning new heated salt water swimming pool with Jacuzzi. Enjoy a delightful, relaxing day by the sea as part of your five-star break.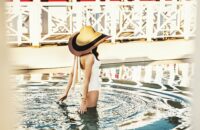 Bambaissa
Restaurant on the beach
The Bambaissa restaurant with its veranda overlooking the sea, is one of the best restaurants in Forte dei Marmi and on the Versilian coast.