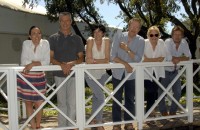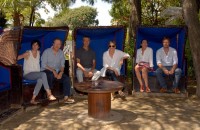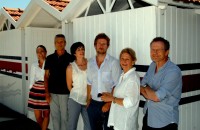 Family portrait
For reasons of heart and affection the Maschietto family moved in the early twenties from Oderzo in the province of Treviso to the sunnier seaside resort of Viareggio. And that is where the family begins the adventure in tourism with the management of the Hotel Marchionni and Caffè Margherita just built in Liberty style on the sea promenade, and soon becomes the meeting point of the most representative figures of the period from Puccini to Repaci.
And thus Nino Maschietto, under the guidance of his grandfather learned the basics of management and the knowledge that in 1954, after various experiences in the field of the publishing and film industry, allowed him to have the confidence to become first the manager and the year after the owner of the first hotel "de luxe" of Forte dei Marmi, beginning the history of Augustus Hotel.
Augustus was then a beautiful villa with 20 carefully decorated and painted rooms, of which there are still the original pieces and paintings on the walls.
Nino Maschietto has always been the patriarch who unfailingly drove his companies, met the employees, giving them advice and inquiring on the daily problems and results.
The three sons, Fiammetta, Federico and Vittorio, now run the Augustus Hotel & Resort, the Hermitage, planning and developing the modernization of the structures with important works, but with special care not to upset the special features and the highlights of the buildings and services.