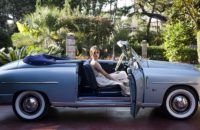 Augustus Hotel
Augustus, a luxury Tuscan resort
A relaxing stay between the pine woods and the sea
In one of the best resort in Tuscany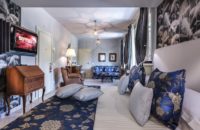 In the extensive grounds, the Luxury Resort comprises two main structures; the Main House and La Nave (The Ship) complex, plus seven private villas.
The gardens present a varied and colourful flowering display throughout the Spring and Summer,including jasmine, rose, lavander, rosemary and hydrangea an gardenia in the shade of umbrella-pine tree.
A beautiful swimming pool is located in one corner of the garden, under a dreading palm tree.
In the park you will also find a large car park with an electrical car charging point and a space for bicycles, wich are available use by our guests.
Pets are welcome in our resort, with dedicated services and menu.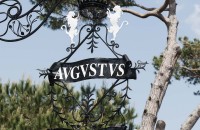 Villa Pesenti
Classic style in the heart of the Augustus Hotel & Resort.
The central building of the Resort, the former Villa Pesenti, retains the classic Modernist style and elegance of the original project, reflected in the use of red travertine marble, in the reception areas and in the recently renovated light filled hall.
Many of the 26 guest rooms have a large terraces,facing the garden, permitting our guests to relax and enjoy tranquillity of the park . All of the bathrooms have been recently renovated with travertine marble.
The main building includes a lounge bar and "Le Perroquet" restaurant, with breakfast terrace.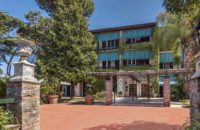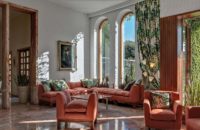 La Nave
A timeless cruise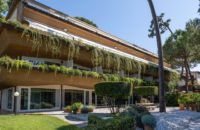 We welcome you on board La Nave (The Ship)! Built in the sixties in the centre of the Resort's park, this later addition provides our guests with every comfort.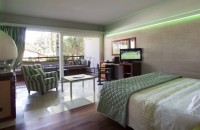 With its naval inspired forniture, La Nave is characterized by its undulating balconies offering unexpected glimpses of the marble peaks of the Apuan Alps, and with long terraced corridors, evoking the bridge of a cruise ship.

On the ground floor, close to the garden, you will the Day Spa and the gym.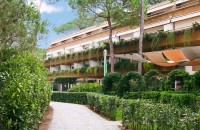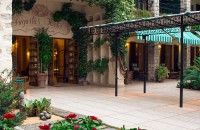 The Park
The Augustus Hotel & Resort in Forte dei Marmi is immersed in the greenery of its expansive garden park. In the shade of the giant pines, you will be surrounded by the scents of cyclamen and gardenias, and sat among twittering blackbirds and sparrows you will be amazed by the wonderful shades of the strawberry trees and hydrangea bushes, with a rainbow of colours ranging from pink to blue. A magnificent natural and botanical show that pleases all the senses.
Besides the ample parking and bicycle spaces, the lush grounds of the Forte dei Marmi resort offer an incredible swimming pool, in which you can relax in the shade of the giant date palm.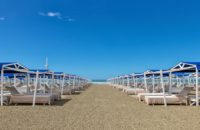 Exclusive beach
The Augustus Hotel & Resort enjoys its own beautiful beach on the spectacular Tuscan coast, offering guests the treatment and services that make this one of the most exclusive corners of Forte dei Marmi. A new heated pool with Jacuzzi, 75 beach tents with sun beds, deck chairs and seats and the dedicated service of the beach and bar staff will ensure your stay by the sea is filled with five-star rest and relaxation.