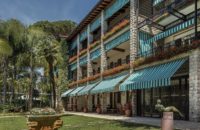 Frequent questions FAQ
Below you can find the answer to the most frequently asked questions from our guests.
What time is check-in / out?
Check-in is available starting from 3pm and check-out by 12pm (noon).
Late check-out is available upon request and availability, the related fee applies. Please contact our Booking Dept. for information and quotation.
Can I check-in late on the day of arrival?
Our Reception Team is at your complete disposal 24 hours, even in case of late arrival we wait to warmly welcome you at any time.
Is the access to the beach included in my room rate?
The Augustus Beach Club is proudly part of the Augustus Hotel & Resort and one of the most exclusive beach clubs in the Versilia coast at the same time. It means that the access to our club is not reserved only to the hotel guests of Augustus and Hermitage Resort. Our luxury cabanas are sold separately from our rooms and villas (not included). Should you wish to secure best cabana for your stay, please contact our Booking Dept. for availabilities and rates or visit the web site www.augustusbeachclub.com
Are the Fitness area and the SPA included in my room rate?
Our fully equipped Fitness Club is at your complete disposal for your daily session of training, with our compliments.
In compliance with the regulations, a maximum of 8 people can be trained simultaneously. We recommend reserving in advance.
The Augustus Day SPA is designed to offer a warm cuddle for your stay, with a wide range of wellness treatments and massages, along with the wellness path. upon reservation 24 hours in advance to allow us to properly prepare the environments. Our SPA is open every day. The treatments are not ordinarily included in the room rates, but special wellness packages are available.
Please visit our web page for information www.augustus-hotel.it/en/forte-dei-marmi-spa-wellness-hotel
What are the parking options?
We're pleased to offer the outdoor parking space – internal at our resort and unattended – with our compliments.
Can I add an extra bed in my room?
The more, the merrier. If you'd like to add an extra bed or cot (under two years) in your room or suite, we'll be happy to arrange this for the Deluxe Room and above. The related fee applies, please contact our Booking Dept. for information and quotation.
What do you offer for children?
We have a entertainment program for children starting from June 2nd until September 11th which will be held in the afternoon at the Augustus Beach Club and in the morning at the big playground of the Hotel Hermitage at 2km distance, reachable with our free shuttle service or by bike.
Do the Resort and Beach Club allow pets?
We welcome your 4-paws friend with pleasure, providing a special welcome kit and a tailored dog's menu to make its stay as comfortable as possible. The fee for its hospitality is EUR 20 per night. Dogs are welcome at the Augustus Beach Club, staying with you within the cabana perimeter, but we kindly ask that not to bring them with you when attending our restaurants, bar and SPA.

We kindly invite you to read carefully our pet agreement.
Does the Hotel have a shuttle service?
The free shuttle service is available every day to reach the center of Forte dei Marmi. The time schedule is exposed at the reception.
Does the Hotel have a Concierge service?
The Concierge service is available to help you plan your stay and make it more comfortable: general information, bookings for museums, theatre, restaurants, car rental with or without a driver, bicycle hire, baby-sitting, newspaper and many other services can be arranged at client's request.
Can I arrive later / depart earlier than the expected booking dates?
We understand that plans can change. If you'll be arriving or leaving the hotel differently from the booking dates, the related penalty will be charged as per the booking conditions mentioned in booking confirmation.
Is the resort wheelchair accessible?
Our resort is provided with rooms easily accessible for wheelchairs users (subject to availability), and our team is always at complete disposal so to make all of our Guests' stay as comfortable and enjoyable as possible
Common areas and service areas are wheelchair accessible.
Are there bicycles available for hotel guests?
The most typical way to move around in Forte dei Marmi is indisputably by bicycle, and our Concierge is delighted to arrange the rent of bikes and rickshaw for the duration of your stay, have it delivered and picked up directly at the resort, easily charging the related cost on the final room bill. Please contact us for information and reservation concierge@augustus-hotel.it
Can you arrange tours and tastings?
What are the accepted payment methods?
We accept American Express, MasterCard, VISA, JCB, UnionPay and Bancomat.

Payments made by wire transfer are accepted only upon approval and based on scheduled terms.

Payments by cheque are not accepted.

According to the current regulation, payments by cash are accepted by European and Non-European citizens up to the maximum of EUR 14,999.99 (except for Italian citizens and/or people resident in Italy, limit EUR 4,999.00)
Is tax included?
10% VAT is included in the daily rate of your room or villa.
The city tax to be paid on the spot is not included in the rate. The cost per person is € 5,00 per night for the first 5 consecutive nights in the period between June 1st until September 15th. City tax is waived for children until 15 years old.
Is there a safe in the rooms?
All rooms have an electronic safe installed which is safeguarded by a numerical code.
Does the hotel have Laundry and ironing service?
Laundry service is guaranteed every day. Standard service with collection of the garments within 10.00 am from the maid and delivery the following day. The same-day express service is also available with a supplement, always with collection of the garments by 10.00 am. The express ironing service is guaranteed every day from 9 am to 3 pm. Dry cleaning service is not available on Sundays and holidays. Saturday deliveries will be returned on Monday.
Is it possible to book half board?
Of course, the "La Sirena e La Fontana" restaurant in Villa Pesenti will gladly welcome you for both lunch and dinner. Half board can only be booked for dinner, 3 courses, drinks not included at a cost of € 60.00 per person (children 2 to 11 years € 35.00), free infants.
Are the rooms accessible by elevator?
All the rooms of the Resort in Villa Pesenti, Nave building and Villa Agnelli (Augustus Lido) can be reached by lift. Except for the apartments / rooms in the Villas in the park and at the Lidino.
What is the photography policy?
Please note that unplanned and unauthorized professional photoshoots or video shoots in the hotel public spaces or outlets are not permitted.